American Divers International
PADI Open Water Certification Course
If you've always wanted to learn how to scuba dive, discover new adventures or simply see the wondrous world beneath the waves, this is where it starts.
The PADI Open Water Diver course is the world's most popular scuba course, and has introduced millions of people to the adventurous diving lifestyle.
American Divers International (ADI) has been a PADI 5-Star Training Facility for over 40 years.
Our Instructors have over 30 years of combined training experience. In short, no one is more qualified to teach you to dive! This is where Brevard learns to dive!

What You Learn
The PADI Open Water Diver course consists of three main phases:
Knowledge Development - online, independent study.
Confined Water Dives - pool training to learn all the basic skills.
Open Water Dives - 4 Ocean Dives
What's Included
Included in the price of the course of $559 is everything listed below:
Course Tuition & Enrollment Fees
Enrollment in DAN (Diver's Alert Network) Dive Insurance
PADI E-Learning Code
PADI Planning Slate
PADI Log Book
Digital Certification Card
Full use of our HEATED POOL
Full use of all MAJOR EQUIPMENT: Buoyancy Compensator, Regulator, Air II, Wetsuit, & Console Computer
Boat fees for the 4 Certification Dives
Photos of your experience
Certification for Life!
What's Not Included
Required Personal Equipment: Mask, Snorkel, Fins, Booties, Weights, Slate, Gloves, and Surface Marker Buoy
**Please contact us to find out exactly which personal equipment items you need BEFORE you buy them and take advantage of programs we have designed to help ensure you purchase the gear that best suits your needs as a student**
Please take Advantage of Programs we have designed for you, the Student!
100% Mask Guarantee - The mask is the Single Most Important Piece of Equipment you will ever own; it's your window to the underwater world. If it leaks on you, you will be miserable the entire dive (trust me, I know from experience). If you purchase a mask from us, and you allow us to fit the mask to your face, we will guarantee the fit of that mask for as long as you own it. Doesn't matter whether its two days or two years later, if that mask starts to leak due to a fit issue, we will find you a new mask or give you your money back.
**This guarantee does not cover damage to the mask**

Fin Rental Program - There is no way a person can find the right pair of fins for them just by looking at them. You can't know which pair you'll like without trying them. For $15.00, you can enroll in the Fin Rental Program which allows you to try all of the different fins during the pool sessions, open water dives, and for up to 30 days after the course. This allows you to find out which fins you like and which ones cause blisters or cramps. Then once you've decided which ones you like, you can take that $15.00 and put it back towards the purchase of a new set of fins. It's a way for you to make and educated purchase!
Try It All In The Pool First! - Diving should never hurt or be uncomfortable. It is our goal that you have a fun and awesome experience learning to dive, not be constantly harassed uncomfortable gear. There's no sure fire way to know if scuba and snorkeling equipment will fit you until you actually get into the water with it. If any of the gear you purchase from us doesn't fit you properly, or is uncomfortable, simply bring it back and we will find something else for you or give you your money back!
The Course
Academic
This gives you the basic knowledge and understanding of the underwater environment. Just like learning to drive, you need to know the rules of the road. This knowledge gives you the rules for proceeding into the wonderful underwater environment.
PADI eLearning makes it easy to fit scuba lessons into a busy schedule. Learn about scuba diving principles and terminology whenever, wherever it's convenient for you. It's your course on your time. Study offline, or online using a computer or mobile device. Connect with us whenever you have a question.
We send you the eLearning code via email once you have signed up for the course.
The PADI Open Water Diver Course online will take approximately 5-10 hours to complete.
Practicals
Confined Water (Pool)- Practice using scuba gear in a pool until you're comfortable. Training at American Divers includes 4 practice "mini dives" to help you build confidence in your new abilities before making four dives in open water. This is where you transfer your new skills from the pool to the open water environment. Each "dive" learnings new skills to prepare you to be a safe, confident diver!
Open Water Dives (4 total) - Completed on the last weekend of your course, all of the skills and knowledge that you learned in academics and confined water will now be demonstrated in your open water dives. All dives are completed in the Ocean, off of a boat. We don't dive in any of the marrow-pit, alligator-infested lakes, springs, or swamps. We want you to gain your diving experience where you are most likely to actually dive!.
Each dive has a prescribed set of skills that you will demonstrate to your instructor. Once you have completed all 4 dives, you will become a CERTIFIED OPEN WATER DIVER!
Prerequisites: Able to swim; medically fit for diving
Minimum age: 12 years or older
Learning Materials: Crew Pack & e-Learning Code provided by ADI
Course Scheduling
Standard Open Water Certification Course:
Our Standard Course runs on either a Tuesday/Thursday or Monday/Wednesday/Friday schedule in the evenings from 6:30 pm - 10 pm for 2 weeks.
You will be here for 5 total nights, the first night will be an intro & paperwork night & the following 4 nights will be in the pool.
The last weekend of your course will be the Open Water dives. We complete 2 dives on Saturday & 2 dives on Sunday.
Prior to your class start date, you will complete the online academic portion.
Weekend Courses

Our Weekend Courses meets Friday night from 6:30pm-9pm for Intro & Paperwork. Then Saturday & Sunday from 10am-4pm with an hour break for lunch.
The following weekend will be your Open Water Dives, you will complete 2 dives on Saturday & 2 dives on Sunday.
Prior to your class start date, you will complete the online academic portion.
Private Open Water Certification Course:
Completed on your schedule. We require a minimum of 4 days to complete certification. You complete the academic portion in advance, 2 days for the confined water and 2 days for the Open Water portion. This method is $899 plus your personal equipment. Ask about rates for more than one person.
What Happens If I Don't Complete The Course?
Quite frankly, that rarely happens. Essentially, so long as you don't give up, we won't give up on you! But, if for any reason, you decide that scuba diving just isn't for you, we'll give you a full refund for:
1. Course Fees (less $150 which goes to the Instructor for the time they spent working with you & covers the e-learning portion)
2. Any Boat Fees you have not used
3. Any Personal Equipment you've purchased from us that you don't want to keep
*The Medical Form is a medical document & must be signed by a Medical Professional.
The following are accepted:
M.D. Medical Doctor
D.O. Doctor of Osteopathy
M.B.B.S. Bachelor of Medicine Bachelor of Surgery (British system of medical education, common in Europe).
Additionally, a Physician Assistant (P.A.) or a Nurse Practitioner (N.P.) may also sign the Medical Statement as long as the medical includes a clinic/hospital stamp identifying the facility and the Physician (M.D.) with whom the PA or NP works.
Related Products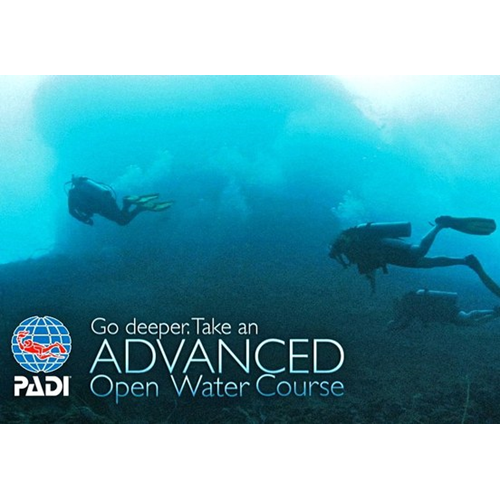 Advanced Open Water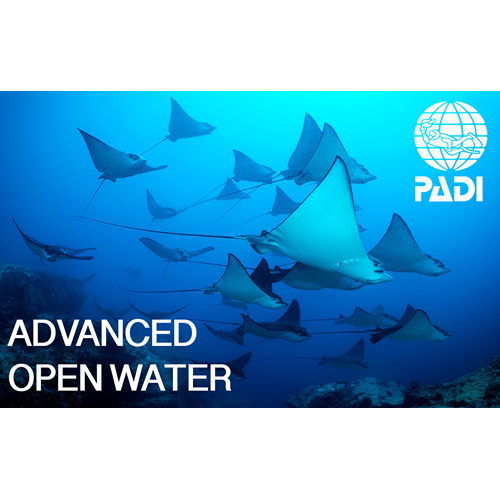 Advanced Open Water - Private